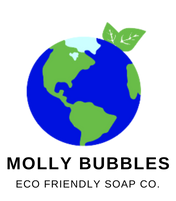 Magick Moon (GLOWS IN THE DARK | 100% Goat Milk Soap)
Scent: Sophisticated florals brightened with a touch of citrus and backed by warm, exotic woods and herbs (Radiant Orchid)
This is such a fun design for any Witchy person in your life.  And we can't get over the scent! Radiant Orchid is definitely coming back for a sequel!
Each witch hat, moon and star embed was hand crafted with cold process soap dough by Molly Bubbles herself! We truly hope you enjoy the unique craftsmanship of each one.
How to get them to glow: simply hold a flashlight up to the soap for about 1 minute and voila! you have a beautiful glowing moon and stars! note: holding it up to a regular 60 watt bulb would take a while - so a flashlight is best
Each soap weighs approx. 5.5 oz

Ingredients: goat milk, olive oil, tallow, coconut oil, cocoa, butter, castor oil, Shea butter, phthalate free fragrance, activated charcoal, eco friendly glitter 
Excellent soap
The soap feels great when applying and lathers well. Love the moon design in this bar and is one of the reasons for the purchase. Thankyou for an amazing soap bar.