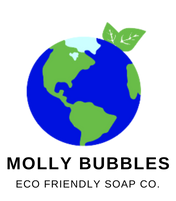 Salt Water Mermaid Pittie Pot (Natural Deodorant | Sustainable | Eco Friendly)
Scent: This fresh watery green fragrance delicately combines notes of ocean mist and sea grass with agave nectar and coconut milk.

I don't know about you, but I've tried EVERY natural deodorant on the market. Some work for a little while, while others don't work at all-even after reapplying throughout the day. Who has time for that anyway? Not me.... And I'm guessing if you're reading this - not you either! After I realized commercial companies sometimes use cheaper ingredients to increase their bottom line- I decided I wanted to use the better ingredients.
I got to work formulating a deodorant that feels soft, creates a barrier of protection (without feeling sticky or crumbly), doesn't leave white marks, and best of all actually works!
I added things like MCT oil, Magnesium, arrowroot and raw honey. Why Honey? Won't that be sticky? NO... It's not sticky in the least. Honey has long been found to destroy harmful bacteria. Honey is also a natural antioxidant that is high in vitamin C and promotes collagen formation in the skin.  Yes those pitties need love too! 
I also made sure I did not skimp on high quality oils such as avocado, shea butter and oat oil. I even added the highest quality extracts - just to give you a little extra!
I also wanted to make it fun! So please enjoy one (or two) beautiful Pittie Pots! They are smaller in size, so you can get several if you'd like and switch up your scent from day to day! They are also travel friendly- so you can tote them along wherever you go without taking up a lot of space (or worry about a plastic tubes' top cracking- which I think by now has happened to us all).
All Molly Bubbles Pittie Pots are FREE OF: 
Aluminum
Baking Soda
Phthalates
Sulfates
Parabens
Talc
Each deodorant holds 1.0 oz. (You may notice some contain a bit over 1 oz. This is due to left over product.  Instead of wasting it- we just add a little extra to your jar ;)
Ingredients: Coconut oil, MCT oil (Mid Chain Triglycerides), Shea butter, avocado oil, Beeswax, Candelilla wax, Magnesium Hydroxide, Arrowroot, phthalate free fragrance, vitamin e, champagne extract, raw honey, oat oil, blueberry extract, mica.
Ahhh I love this stuff !!!
I'm so obsessed with these Pittie Pots. This one has to be my new favorite. Everyone NEEDS to try Salt Water Mermaid!!! Top 3 scents by Molly :)