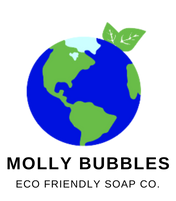 Rose Quartz (Carrot seed | Silk | shampoo bar)
Scent: This is a bright and citrusy twist on a traditional rose fragrance. You'll love the notes of bergamot, orange, grapefruit, dried rose petals, jasmine, sandalwood, and musk. (Rose Quartz)
This is the only shampoo formulation I will ever use on my own hair ever again!  The best part is - this shampoo bar works on all hair types (at least all that we've tried ;).  I attribute it much to the added extra TLC of adding silk and other beneficial oils.  All things that our hair just loves.  Ditch the plastic bottles in the bathroom and try this zero waste bar.  I can almost guarantee you won't go back!
3.3 oz bar
Ingredients: sodium cocoyl isethionate noodles, sodium lauryl sulfoacetate (SLSA*), cocamidopropyl betaine, emulsifying, wax, shea butter, sodium lactate, silk amino acids, phthalate free fragrance, optiphen, carrot seed oil, mica.
*Please don't be fooled by the name! SLSA is very different than SLS. It is not a sulfate.  This is still sulfate, paraben, pthalate & formaldehyde free shampoo =).