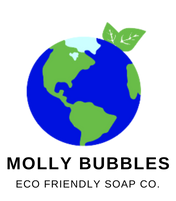 Cloud 9 ( Olive oil | Vitamin E | Argan oil conditioner bar)
(Formerly "Hello Sugar" ) Scent: Sweet sugar cane with notes of lemon rind and shortbread. This scent is almost like cotton candy but with a warmer note.
This will be the silkiest conditioner you've ever used. You'll also be happy to know this formula is silicone free, paraben free, phthalate free and glides through your hair without effort. 
I personally love using this one as a partial leave in (also works on the kiddos hair as a detangler). After washing with my Champagne Shampoo bar, I grab my conditioner bar and rub it generously through my hair... And it doesn't take much effort- Just a few swipes and you're going to feel the silkiness right away.  Rinse a little out, and leave a little in if you want some extra conditioning for the day.  This especially helps with dry hair types. The vitamin e & argan oil act as an antioxidant. It works to protect against free radical damage and helps to give the hair its silky texture and shine!
3 oz bar (depending how you use it, this bar could last you several months)
Ingredients: BTMS 50, mango butter, olive oil, cetyl alcohol, stearic acid, glycerin, DL Panthenol (vitamin B5), xanthan gum, essential oil blend, vitamin e, optiphen (preservative), Argan oil.