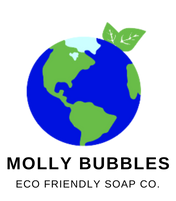 Glinda (GLOWS IN THE DARK | Goat Milk soap)
Scent: This is a bright and citrusy twist on a traditional rose fragrance. You'll love the notes of bergamot, orange, grapefruit, dried rose petals, jasmine, sandalwood, and musk. (Rose Quartz)
This soap is inspired by Glinda The good witch! Each wand was made by hand with soap dough, so we truly hope you love the unique look of each! The most fun part is the wand glows in the dark! 
How to get them to glow: simply hold a flashlight up to the wand for about 1 minute and voila! you have a beautiful glowing wand! note: holding it up to a regular 60 watt bulb would take a while - so a flashlight is best.
Each soap is 5 oz.
Ingredients: goat milk, olive oil, coconut oil, tallow, castor oil, shea butter, cocoa butter, phthalate free fragrance, mica, biodegradable glitter.
Beautiful and feels great!
This soap is a work of art! It also feels amazing on the skin. The crystals have a great exfoliating effect and the consistency is great! I can't imagine ever using a different soap again!