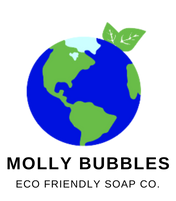 Creamsicle Sunshine (Natural | Concentrated solid dish soap)
This will be your new favorite dish soap in no time. It's the ultimate plastic-free and eco-friendly solution for your all of your dishwashing needs + more (You'll find it works wonders on tub grime, countertops and faucets)!
This concentrated solid soap is not only gentle on your hands and dishes but also better for the environment. The solid form eliminates extra plastic packaging, making it a more sustainable option compared to traditional liquid dish soap. 
Despite its compact form, Solid Dish Soap combined with essential oil packs a powerful cleaning punch! It effectively removes grease, food residue, and grime without leaving residue. (If you've been using commercial liquid detergent for a while-you'll notice the lack of residue right away!).
This long-lasting and concentrated formula means you only need a small amount to get your dishes sparkling clean, thus making it a cost-effective option.
How to use: Wet a dish brush or sponge and rub it on the solid dish soap to create a lather. Apply the soapy brush to dishes and scrub away food, grease, and grime. Rinse well. Any temperature water should work, but warmer water tends to be more effective.
Scent: orange & Litsea essential oil (Smells like a creamy creamsicle treat!)
Each Reusable tin holds 7.7 oz. of concentrated dish soap (1 tin full replaces up to 3 bottles of liquid dish soap, lasting the average household 4-6 months!)
Ingredients: distilled water, coconut oil, olive oil, stearic acid, castor oil, orange & litsea essential oil, raw honey, mica.